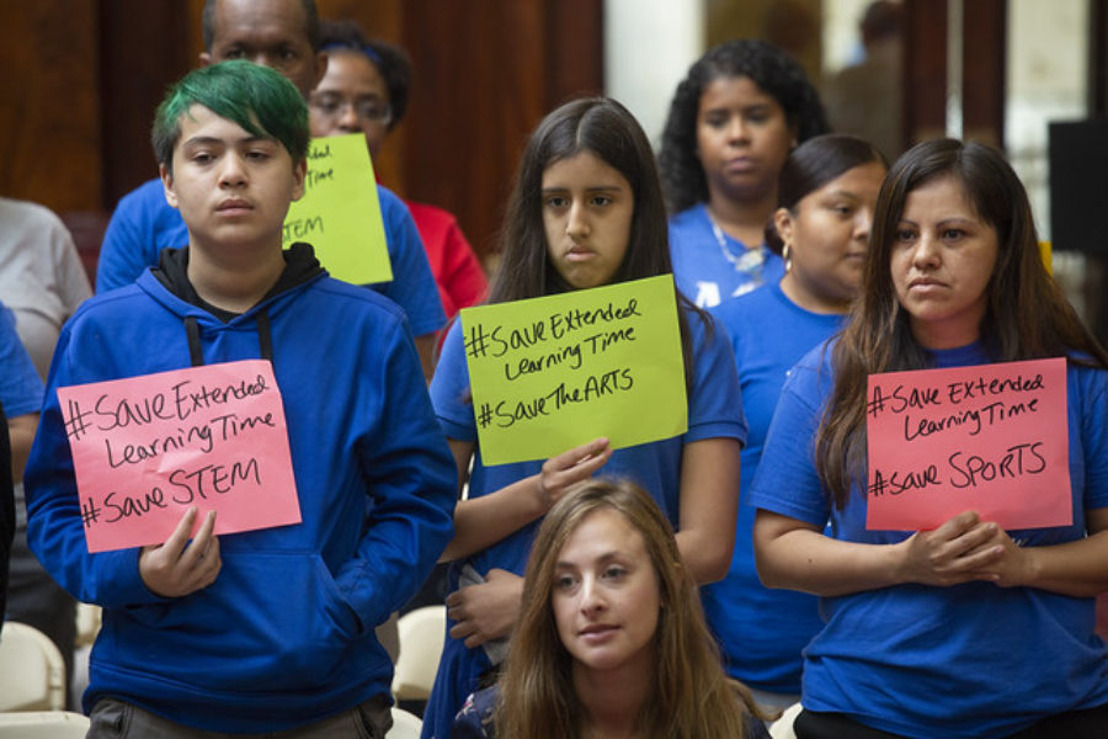 MS 50 Debate Team Protests to Save Extended Learning Time in School
https://www.chalkbeat.org/posts/ny/2019/05/20/unacceptable-nyc-council-presses-carranza-on-budget-priorities-in-hearing/
Chancellor Richard Carranza got another round of tough questions Monday about the education lines in the mayor's budget proposal for next year, and most of the questioners didn't mince words.
"This is a deeply disappointing and unacceptable budget for the council," said Councilman Mark Treyger, who chairs the council's education committee, during the budget hearing.
Of the $92.5 billion that Mayor Bill de Blasio wants to spend on running New York City next year, $27.1 billion would fund the education department. That's a slight bump from last year, but there are still some proposed program casualties, such as the extra hour of learning time that dozens of struggling schools receive. Child advocates and council members are also pushing for more support staff, such as social workers for schools with high populations of students living in shelters.
=Carranza cited tough economic conditions, which include a nearly billion dollar projected shortfall in income tax revenue, fueling the mandated cuts at each city agency. But a couple council members rejected that logic, saying there were still hundreds of millions of dollars in revenue the city could tap for school initiatives.
A final budget plan must be approved by July 1, the first day of the new fiscal year. Here are the highlights from the hearing.
Pay parity for pre-K providers
Council members drilled down on providing the same level of pay for community-based pre-K teachers that school-based teachers receive — an issue that almost sparked a one-day strike. "It's one of the top priorities of the council that we see these concerns addressed," said Councilman Daniel Dromm, who chairs the council's finance committee.
Dromm also aired gripes he's heard about the education department's plan to assume full oversight of early childhood care programs. One concern is about how the city will pay pre-K providers for their services — a question raised by Comptroller Scott Stringer in his calls for the city to redo contracts for pre-K and childcare services.
Carranza replied that city officials have been working "very, very aggressively" to address such issues in recent meetings with pre-K providers and union officials. But the chancellor offered no other details about their negotiations — including about who has attended these meetings — citing the sensitivity of ongoing discussions.
Figuring this out is a high priority, Carranza said, but he did not share a timeline for when these conversations might result in some sort of agreement, so it's unclear if pay parity will be addressed in the final budget.
Extended learning time
The mayor's budget proposal cuts $19 million that funds an hour of extra instruction at 71 struggling schools in the Renewal turnaround program, which the city is now ending. Earlier this year, city officials said former Renewal schools would continue to receive many of the same supports.
The head of the principals union has criticized the cut. Students from the debate team at M.S. 50 in Brooklyn, which benefits from this additional learning time, protested outside City Hall before attending the hearing Monday morning, carrying brightly colored signs that read, "#saveextendedlearningtime." Treyger noted cutting the program would be "breaking a promise" to students, and Councilman Antonio Reynoso said he "couldn't get past" the fact that this initiative was, in part, what helped M.S. 50's debate team to flourish and become competitive nationally.
A "large majority" of principals liked extended learning time, Carranza said, but also found it difficult to manage successfully at their schools. And given a choice in an environment of fiscal uncertainty, Carranza said most principals preferred preserving their larger school budgets and maintaining partnerships with community-based services.
The education department, however, is trying to find resources to continue extended learning time at roughly eight schools where principals told the department the funding is "critically important," Carranza said.
Social workers
Giving students more social-emotional supports appears to be another big priority for the city council. The school system would like "more robust staffing," Carranza said, but he blamed the state for shortchanging city schools during the budget process.
"I want to be clear: there aren't bags of money at the DOE," Carranza said.
But Treyger, while agreeing with Carranza's point about state dollars, also questioned why the city couldn't "step up" and direct more city revenue toward hiring more social workers. About 700 schools don't have a full-time social worker, Treyger said.
The mayor's budget plan funds 53 positions for social workers at schools with a high population of students who are living in shelters — still short of what advocates say is needed for the city's growing population of homeless students.
Treyger noted the city council has pulled from its own budget resources to fund more social workers in the past and was likely willing to do that again this year.