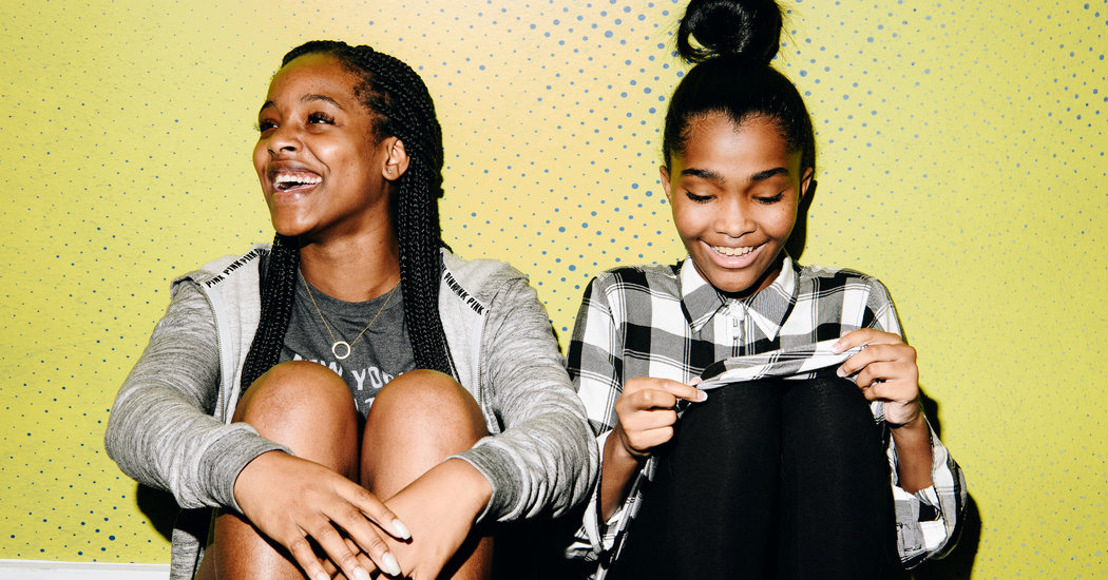 What 'The Constitution' Meant to Two Teenage Performers
New York Times, August 26th, 2019
https://www.nytimes.com/2019/08/26/theater/constitution-means-to-me-teenagers.html
Sitting in the balcony of the Helen Hayes Theater on Saturday evening, two teenagers munched on Welch's Fruit Snacks and said goodbye to their Broadway show, "What the Constitution Means to Me."
Rosdely Ciprian, 14, and Thursday Williams, 18, make up half the cast of "Constitution," a play by Heidi Schreck that was extended three times Off Broadway and played five months at the Hayes, a longer and more life-changing commitment than they had ever expected.
In the play, Ms. Schreck revisited her personal history of giving presentations about the Constitution as a high school student. Ms. Ciprian or Ms. Williams appeared toward the end of the show — they alternated performances — for a formal debate with the playwright over whether the founding document, with its history of enshrined inequities, should be abolished.
The young women, who were cast because of their involvement in debate at their respective New York City schools, embodied the future generations who would face down the country's unmet promises. But they were also just kids — Ms. Williams driven and studious, Ms. Ciprian bubbly and animated, both typing away at their homework backstage.  
Between Ms. Ciprian's final Saturday matinee and Ms. Williams's Saturday night show, the Broadway finale, they sat down to talk about their experience, and what comes next. Ms. Ciprian will continue with the show for its 11-day run at the Kennedy Center in Washington, D.C., while Ms. Williams goes off to college. The conversation has been edited and condensed.
How are you feeling?
WILLIAMS I'm sad, I'm happy. I'm sad that this is the end — you know, I've been on the show for one year and I have so much fun onstage. So I'm going to miss that part. But I'm happy I get to start a new chapter of my life.
And what's next for you?
WILLIAMS I'm going to Trinity College in Hartford, Conn.
CIPRIAN Lucky you! Going to college!
Has this changed what you want to do with your lives?
CIPRIAN I've always wanted to act. But this gave me more of an intense feeling of what it's like to act. So I would love to do that, but I would also like to go into the medical field. I don't know if I can do both. But I've been bit by the theater bug. All the lights! All the people watching me! I love that.
WILLIAMS Before I started this show, I wanted to be a lawyer, and now I want to run for office. I've had the opportunity to meet senators and politicians. It was a real eye opener. That's what I want to do. I will create the foundation for the change.
How did you balance Broadway with being a student?
CIPRIAN Broadway and high school — that was weird. I would have to leave at 12 o'clock for some matinees and have to email my teachers to do my work and take tests online, and submit them.
What did your classmates think?
WILLIAMS When I got this part, kids in my school were like, "What do you know about Broadway?" And I'm like, "Absolutely nothing — but I'm on it!"
At the end of the show, you answer questions, some asked by audience members. The last one is always about imagining your future. Is it hard to come up with answers on the spot?
CIPRIAN It depends on the questions, sometimes I'll blank out!
WILLIAMS Last night, I was asked the last question — what do you imagine your life to be — and I froze. I don't even remember what I said! I only said it because I just wanted to get off that stage.
Do you think that's because you're going to college on Thursday?
WILLIAMS I think it's because the show is about to end and things are about to switch up. I'm really good with change. I love change. But as much as I think I'm ready for this next chapter, I'm still a little anxious.
Who has come backstage to say hello?
CIPRIAN Sonia Sotomayor, Ruth Bader Ginsburg, Barbra Streisand.
WILLIAMS I [had done] the Sonia and Celina Sotomayor judicial internship program. I met Sonia Sotomayor for five seconds at the elevator, and when they snatched her away from me, I said, "I'll see you soon!" not knowing when I was going to see her or how I was going to see her. But this show gave me the opportunity.
What happened when you saw her at the theater?
WILLIAMS She looked me in my eyes and she goes, "I'm really happy that you chose college."
CIPRIAN She was a mess when Ruth came.
WILLIAMS I have a giant poster of that woman in my house. My mom would be like, "Why is there an old lady staring at me before I leave my house?" Sonia Sotomayor came from the Bronx, R.B.G. came from Brooklyn, I'm coming from Queens. Seeing these people say "I love you and I'm so proud of you" really makes me think I can get to their level.
CIPRIAN We're kind of obsessed with three things: R.B.G., unicorns and doughnuts. Those three things are our vibe. We have a life-size poster of R.B.G. in our green room. When she came, everybody was freaking out. And I think the audience members knew she was here, because the show brings up R.B.G. multiple times and people would be like "WOO-WOO-WOO!" So we knew something was off. Then she came backstage!
Do you remember what you talked to her about?
WILLIAMS She said, "Sonia and I have been talking about you." It's so like — I just really want to go college and I want to get my 3.9 G.P.A. and I want to go to Columbia Law School and I want to be a lawyer — right now! I want to start tomorrow. But I more remember Sonia Sotomayor's conversation. She spoke to me more directly. I feel like with R.B.G., I didn't speak very much. I was crying.
Anything you want to say to her in the newspaper?
WILLIAMS (Pause.) No. I have V.I.P. access to the Supreme Court by the way, so I will go and say it to her!
Anything you want to say to anyone in the newspaper, Rosdely?
CIPRIAN Michelle Obama! The show is going on tour. Please come to the show! You're amazing! You're a legend! I love you. Can you imagine if Beyoncé came? No, that'd be too much.